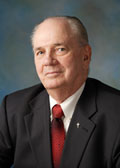 Melvin E. Pierce began his career as a painter in 1959, working on industrial projects ranging from paper mills to chemical plants.  In 1972, he founded Melvin Pierce Painting, which focused on residential projects in and around Mobile, Alabama. 
Today, Melvin Pierce Painting has grown into one the largest commercial painting contractors in the South and specializes in commercial painting, drywall finishing, wall covering installation, and special finishes.
On the industrial painting side, Melvin Pierce Sandblasting and Special Coatings
focuses more on rigorous jobs such as painting and sandblasting at waste water treatment plants, petroleum refineries, chemical plants, power plants or any of your industrial coating needs.
Also, Melvin Pierce Painting and Melvin Pierce Sandblasting and Special Coatings are certified installers of Sherwin Williams Envirolastic® (polyurea). Envirolastic® coatings and linings are more commonly applied over concrete and steel for corrosion protection and abrasion resistance.
Click here for EMR and Bonding Info!
Click here to see our rankings in South Central Construction magazine!